2017 Maserati Quattroporte
---
The flagship Maserati model has been relaunched for 2017 with an exterior restyling, more refinement for the cabin and extra high-tech features.
The exterior of the facelifted Quattroporte has brought a new bumper design with a matte black profile at the front. It is more pointed and commanding, and it introduces vertical chrome elements that contrast with the deepness of the shark nose effect.
Inside, improvements to the cabin include a high resolution 8.4" screen with multi-touch function. The screen is integrated with a new climate control function, while an air quality sensor improves comfort levels for occupants on-board. This system calculates the external pollution levels and prevents unclean air and toxic gases from entering the cabin.
A new package of advanced driver assistance systems is also available as an option in the 2017 Quattroporte. It includes adaptive cruise control with stop and go, lane departure warning, and forward collision warning with advanced brake assist and automated emergency braking. An additional surround view camera is also available.
The 2017 Maserati Quattroporte 3.0 V6 Diesel we tested has frugal running costs, compared with its far thirstier petrol powered sister units. The high-end chauffeuring sector has already cottoned on to this – check out the posher end of airport arrival and departure drop off points and you'll see what I mean.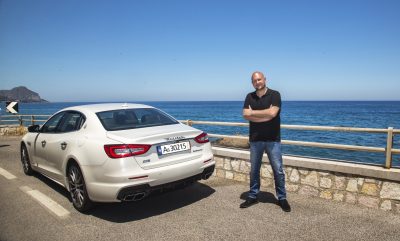 So, although it's good enough to transport people with a substantial serving of sophistication and style, the Maserati will turn into a snarling sports car with a click of the fingers, too.
Thanks to its huge oil-burning lump and quick-changing eight-speed automatic transmission, the deluxe diesel car can reach 62mph in 6.4 seconds – onto an electronically limited maximum speed of 155mph. Bury your right foot into the deep carpet and the forces feel similar to a jet-airliner as it thunders down the runway for take-off.
Despite its bulk, the sumptuous saloon feels like a light sport car when tackling snaking rural routes. Rapid changes of direction are simple and the steering responds quickly, enabling the Maserati Quattroporte 3.0 V6 Diesel to feel almost diminutive.
In this life you get what you pay for, so it should come as no great shock that this car isn't cheap: £70,510 will get you a brand new entry-level model.
FAST FACTS
(Maserati Quattroporte 3.0 V6 Diesel)
Max speed: 155 mph
0-62 mph: 6.4 secs
Combined mpg: 45.6
Engine: 2987cc 6-cylinder 24v turbo diesel
Max. power (PS): 275
CO2: 163 g/km
Price: from £70,510
PROS 'N' CONS
√ Looks
√ Power
√ Comfort
√ Kit
X Pricey
---
Tested: Sicily
By Tim Barnes-Clay, Motoring Journalist
Website www.carwriteups.co.uk
Twitter @carwriteups
---