What our readers say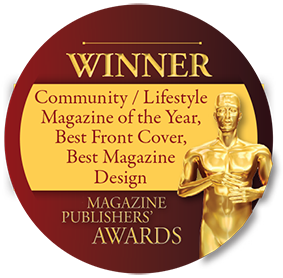 92% of our readers regularly refer to our magazines.
We are continually overwhelmed with readers' testimonials, so we now publish them weekly on our Instagram feed.
Hop online to read the latest @vpmagazine
It's very good for the adverts.

Sarah
Wattisfield
It is a lovely read.

Charles
Wingfield
Some interesting articles Scams in the auction and about hedgehogs. Nice cover photo.

Carol
Eaton
Great local news.
Events I can forward plan.
Recipes.

Karen
Keswick
Articles about events and businesses in local area. Adverts. Articles about being green and helping the environment.

Melanie
Wicklewood
Very informative and a great place for local businesses to advertise.

Chris
Wreningham
Gives interesting information about the local community and places to visit plus the adverts provide good local contacts for products and services.

Nickie
Cringleford
It contains a good range of interesting, local, articles. Such a good publication at no cost.

Stephen
Occold
Information that I wasn't aware of.

Vicky
Wymondham
Variety and broad spectrum of both adverts and information especially about new businesses and ideas.

Daphne
Topcroft
Very helpful when looking for local tradesmen.

Gwen
Hethersett
Local restaurant write ups. General info on local businesses.

Kirsty
Forncett St. Peter
I love this compact magazine! It's big on local issues and jam-packed with interesting articles and community "goings-on".

There's loads of local businesses offering all sorts of services to peruse and use, which I do, and for me this colourful little publication is nothing short of a winner, so well done for all your Awards!

So, I don't feel there is anything to improve – it's a pleasure to receive Village People through my letter box. (Love the front covers too)!

Jan
Palgrove
Local news and useful local ads. What's On and interesting articles about local places.

Katie
Wattisfield
The wide range of local advertisements for all types of services which is very useful to have to hand.

Suzanne
Bedingham
The magazine is full of a variety of interesting topics and easy reading.

Daphny
Alburgh
It is a wonderful little magazine, filled with interesting articles and delivered to homes by post, to an evergrowing destination.

Jackie
Roudham
A very useful magazine, with lots of local interest. Easy, informative read. Always helpful with finding professional people.

Vivienne
Shelfanger
I truly love everything about your magazine and read it from cover to cover every issue.

I particularly love the ladies who lunch and often use their review to decide on where to go myself for a meal with friends. (I love a good teashop so would love to see more of those featured).

I also find the Village Notice Board very handy and use it a lot to find local jumble sales and craft shows etc. I always check the on-line version of that because it has more than in the magazine.

Dawn
New Buckenham
The variety of articles spread across the borders of Suffolk and Norfolk.

Philip
Fressingfield
The local history articles, what's in season, Village notice board and recipes.

I always pinpoint these areas first.

Dawn
Ditchingham
Articles on local business – for example places to eat, recipes, What's Ons, gardening and wildlife articles.

Julie
Rickinghall
Variety of articles and useful traders and services.

Brian
Kirby Cane
All the local articles and certainly the recipes.

Carl
Diss
Easy to upload community events.

Lisa
Wortwell
Well laid out and easy to read.

Chris
Saxlingham Nethergate
Well presented, interesting articles a well as useful local services Ads.

As a wheelchair user myself I'm especially pleased that the Ladies Who Lunch articles include information about disabled access, since this is so often missing on the establishments' websites.

Gill
Hopton
Variety of content and information about local products and services and its free.

Anne
Garboldisham
I love receiving it. Full of interesting articles. I love ladies who lunch and the garden page.

I do read every article , then pass it on to a friend who lives in Fornham St Martin.

Valerie
Market Weston
Lots of local info.

Jess
Hapton
I like the interesting articles and general information.

Keith
Upper Stoke Holy Cross
Variety of info. Friendly nature of the magazine.

Marion
The Heywood
Good mix of articles and adverts for local services etc. of interest. And it's free.

Martine
Thorpe St. Andrew
It is perfect for information relating to LOCAL services.

Susan
Tharston
Local topics, all very interesting.

John
Forncett End
The interesting mix of articles and the local interest features.

Robert
Thorpe Abbotts
Local information in one small magazine. Interesting articles, recipes and stories about local history.

Rebecca
Hethersett
It is a combination of a lifestyle magazine and a useful source of information. From an event organiser's point of view it a great way to publicise community events and the fact that is free is an excellent way for a business to support the local community.

Tony
Wymondham
How it covers such a diverse range of things going on, interesting articles and colourful presentation.

Jean
Bungay
Wide selection of articles from music to gardening to pets and local events.

Elizabeth
Great Ellingham
Lots of useful adverts!

Jani
Stoke Holy Cross
Great for advertising to our target audience.

Lisa
Wortwell
Just a cosy, down-to-earth read with so much interest – Keep it up!

Eileen
North Lopham
I like the format. The articles I find interesting and informative I like the fact that it is available to so many people. I love the size.
As a household we use the events page and have employed some of the trades-people who advertise.

Vivienne
Shelfanger
All of it, enjoy sitting reading through it in the evenings when my little one is in bed with a cuppa.

Clare
Hempnall
Lots of local news and events. A really good easy read.

Linda
Gislingham
Perfect Magazine to keep you informed what is on around us.

So Much Information.

Alison
Kenninghall
I always spot appealing events happening in the region that I don't know about.

Catriona
Eye
I like how it gives local information and keeps me up to date on things that are happening around the area.

Ross
Poringland
Variety of articles and information. My mother-in-law recently moved into this area and she absolutely loves it, keeps cutting bits out to send to friends! As an old Norfolk lady, I think she likes local history best.

Carolyn
New Buckenham
I love the different features- always a good fashion piece to look at – great simple recipes and the magazine is full of colour.

Helen
Norwich
It has lots of small articles that you can just dip into to read. Lots of information about services and places to go.

Jenny
Lakenheath
A great little magazine which is compact and full of useful information. I love the monthly competitions.

Debbie
Hethersett
It's varied and always has something of interest to read. I like learning things about the surrounding area where I live.

Charlotte
Long Stratton
Information on local events. Adverts from local trusted traders.

Lindsey
Spooner Row
The relevant and useful advertising and the mix of articles.

Lydia
Eaton
A compact and informative magazine, which gives current events and helpful, tips and advice.

Handbag size too, so easy to carry around and read at leisure.

Alison
Eccles
Interesting articles and good mix of advertising.

Murray
Eaton
I love receiving the magazine in the post. It always has lots of interesting information. The what's on page is good – it tells me about events I may not know are on otherwise. Great completions too.

Claire
Wymondham
Attractive covers, interesting and varied features, colourful, advertisements you don't see elsewhere.

Rachel
Diss
It has all different kinds of articles to appeal to different age groups.

Claire
Hethersett
It has an upbeat feel to it and contains something for all the family.

Lisa
Tharston
Informative & interesting- a very well produced magazine ??

Deborah
Harleston
Different content so covers [a] wide range of interests and also useful for gaining local contractors details.

Angela
Fressingfield
I think it is a very interesting and informative magazine for people who live in Norwich and South Norfolk.

Rodney
Eaton
The range and variety of different information presented along with details of local events – very informative.

Rachael
Forncett St. Peter
It's very interesting current & informative – congratulations.

John
Wrentham
Very informative free magazine, a cut above the usual things that drop through the letterbox. Usually keep it from one delivery to the next, always handy to see what is happening in the area.

Linda
Wicklewood
Promotes Community cohesion.

Lisa
Wortwell
Packed full of adverts for local events and local traders – [the] small format is easy to hold and browse through.

Jani
Caistor St. Edmund
Love the Ladies who Lunch page, local historian memories and notice board. Look forward to it arriving, thanks.

Freddie
Kenninghall
The high-quality production makes it lovely to read, especially as it always contains very interesting features and, for us, useful advertising.

It is not the sort of magazine that gets put out with the old newspapers and so now I have an impressive series collection to which I often refer back to past features and adverts.

Patricia
Kenninghall
The Magazine covers a huge market of relevant and interesting content.

Clarice
Eye
Events and news plus information on local tradespeople with features on local village history.

I also like the high-end quality of the magazine. A real glossy treat and look forward to receiving it and settling down with a cuppa to read it.

Moira
Thorpe Abbotts
The fact it's in paper and I can read with a coffee.

Also just discovered [the] ability to submit events.

Laura
Palgrave
Handy adverts for tradesmen when needed.

Offers on nearby places like restaurants.

Megan
Rushall
History information pages, recipes and advertisements for when looking for a tradesperson.

Daphne
Bracon Ash
It's local. Good for trade ads.

Jeff
Gislingham
It's a very informative magazine, really helpful if you're looking for local tradesmen or good days out. I enjoy all the articles, especially the Ladies who Lunch.

And best of all it's delivered to my door and for free!

Marvellous! Keep up the good work.

Julie
Stradbroke
Interesting articles – good quality adverts – lots of content – local events and businesses I didn't know about – a fun and lively feel to it – brightly coloured – good quality pictures on good quality paper – a good size – nice calendar items, like the gardening jobs and in-season produce for the time of year.

Carmel
Shropham/Great Hockham
It has interesting articles in it along with the adverts for local tradespeople and local events.

Suzan
Lakenheath
Interesting and informative about local events and organisations. I refer to it regularly for information on what is happening locally.

A good platform to inform local people of fundraising activities and organisations.

Bridget
Caston
Pretty, colourful, nice little book to have for local businesses when required.

Angela
East Harling
I like the good quality reviews on theatres/plays, books & places to eat also a good variety of trades that are helpful from time to time.

Paul
Wicklewood
It's telling me everything about local life. I only moved to Diss 6 months ago and it's great to have a local free magazine telling me what's on in the area.

Carl
Diss
All the relevant advertisements plus the various news and other items. A great variety.

Lydia
Eaton
Mainly I like the size. It fits into a handbag and travels around with me. I can read it wherever I am and if with friends I can instantly recommend someone to help with any task.

Brenda
Great Ellingham
It's a "go to" source for local trades.

Susie
Hethel
I like the quality of this magazine with its glossy feel and then, of course, it's full of adverts covering almost everything any household could possibly need.

Nina
Carleton Rode
I like the listing of local tradespeople and the range of topics covered and local news.

Elaine
Long Stratton
I like the fact that I can look for a local business to do any jobs I need.

I like the "Ladies that Lunch" section also as it gives me ideas of places to go.

It is good to see events that are on, although that section seems to have decreased considerably.

Really like the magazine.

Rachael
Attleborough
Local news and handy adverts for local businesses.

Sally
Morley St. Botolph
The history, old photo's etc from different villages, towns etc. Lot's of adverts covering all aspects of things we may need in the daily running of our lives. Events going on around that could be a nice family outing.

Sarah
East Harling
It has lots of useful adverts as well as interesting articles. I especially like the On Your Plot, the recipes and What's in season.

Eileen
Kirby Cane
Very informative and covers so many different areas for all generations.

Alison
Kenninghall
It's a very informative and interesting magazine with adverts relevant to our villages. It highlights local activities and includes ideas for days out and visiting places I may not otherwise have heard of or thought to visit!

Gill
Redgrave
Everything in the magazine is local and relevant. I also like the recipes and gardening tips. Thank you, I enjoy receiving the magazine very much.

Lesley
Wilby
Finding out about what is going on in our area.

James
Flordon
It's wide variety of topics and useful adverts for local people.

Jacqueline
Soham
Interesting information and adverts relative to the local area.

J Trevethick
Cringleford
The fact that it's free, open to all, and enables people to know so much more about what's going on, especially the small fund raising events like ours.

Caroline
Griston
Very informative easy to read local magazine full of tips and advice.

Brenda
Scole
All the interesting adverts in the magazine.

Sarah
Ellingham
It's got a wide variety of articles and I like reading about where the ladies lunch.

Liz
Eccles
I particularly like the Village Notice Board so I can see what events are happening.

T Buck
Eaton
It is Free! And has useful info on local events! also it is printed on good quality paper and is a nice size to store and read!

David
Bungay
Vibrant, interesting and current magazine with useful what's on information in the area.

Lisa
Shelfanger
Small so easily picked up and doesn't take up space on the bedside table!

Margaret
Cringleford
It is very good at telling us what is on and also advertising different trades people. We did find a few people through your ads who came and did work for us and we were pleased with the work they did.

Alexandra
Eaton Rise
The magazine is pocket size and contains lots of articles relent to me and my local area.

Justin
Hapton
I enjoy it's content and presentation. [It's] a very informative and attractive publication – about the only one I read.

Janine
Aslacton
I particularly like finding out about different things that are taking place in the surrounding area. I have learnt about The Health Walks through the magazine. This month your adverts have been helpful as we are currently looking for care at home for a relative.

Vicky
Wymondham
[The] local info.

Nikki
Hopton
News about what's going on – and been on. Ads for local trades people.

Mike
Diss
It is full of a wide range of information. I look at every page to make sure I don't miss any nuggets.

Judy
Scole
Ladies who Lunch & the village notice board; there are many other items I enjoy too.

Great Magazine! I look toward to it arriving on my doormat every month.

Elaine
Wacton
Really newsy.

S Thorpe
Harleston
Easy to read and very informative.

Chris
Saxlingham Nethergate
It keeps me up to date with all the local goings on.

Julie
Brooke
Packed with lots of local information.

Angela
Diss
The competitions and the what's on guide.

Nicola
Long Stratton
It's small and compact with lots of useful, interesting information.

Tara
Hethersett
The variety and colour, and the whole ethos!

Andrea
Bury St. Edmunds (c/o my parents!)
I think its very informative.

Jill
Lakenheath (but have seen the magazine in Thetford Garden Centre)
It's wide availability.

Maurice
Fressingfield
Good newsy local magazine which allows us to advertise our events.

Tim
Pulham St. Mary
I really like the very interesting articles you print on local subjects.

Janet
Diss
Competitions, local events and recipes.

Ella
Harleston
All local information. Gardening tips and recipes and just local things!

Ruth
Pulham St. Mary
The wide range of articles and items of interest.

Carl
Diss
Very informative, good stories and nice to get a lot of local tradesmen advertising which is very helpful, and I think Lily and the team do a great job.

Alan
Tacolneston
I like the variety of local interest.

Jenny
Harleston
It has a good mixed content and the bright covers always grab my attention. Love the competitions!

Debbie
Hethersett
I really enjoy the variety of topics and information in each edition. Often use it to look for tradesmen as well.

Debra
Deopham
The personal touch, the gardeners tips, the recipes and reviews e.g. Ladies who Lunch, the events and what's on – these are very important and useful.

Emma
Tibenham
[It] covers a wide range of topics, well done thank you.

Katherine
Hemsby

Often we are away from home visiting family and friends elsewhere.
But [we] always read Village People cover to cover upon return, often with great disappointment of events missed, but so very grateful to live in a vibrant community with so much to offer!!!

Elizabeth
East Harling
Nicely put together magazine, informative.

Josie
Thorndon
I like the fact that it has lots of dates for events that are going to be happening. Already put Rock Norwich in my diary and a hobby craft day at the NEC.

So much to read in a little book. This copy is my father in laws.

Vicky
Wymondham
It always has great information on local businesses. I also like the size, not too big.

Paul
Cringleford
I like when you photograph the clothes and accessories and put together on a page. I also like the fact that the magazine is all about supporting local companies.

Sian
Cringleford
Competitions, gardening and cooking ideas, Ladies Who Lunch giving ideas for our next outing and other articles that teach me more about the area and what it has to offer.

Faye
Stuston
Read statistics from our latest reader survey.
We'd also love to hear what you think.