What our readers say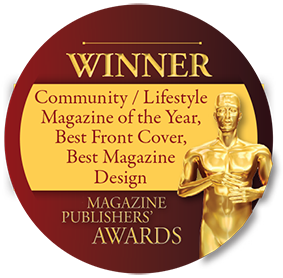 92% of our readers regularly refer to our magazines.
We have even won an award for being the magazine that people wanted to PICK UP, KEEP READING and SAVE.
We asked them what they like about Village People, and we've been overwhelmed by their responses.
See for yourself…
Easy to read and very informative.

Chris
Saxlingham Nethergate, March 2019
Enjoyable!

Katharine
Bungay, March 2019
It keeps me up to date with all the local goings on.

Julie
Brooke, March 2019
Packed with lots of local information.

Angela
Diss, March 2019
The competitions and the what's on guide.

Nicola
Long Stratton, March 2019
It's small and compact with lots of useful, interesting information.

Tara
Hethersett, February 2019
The variety and colour, and the whole ethos!

Andrea
Bury St. Edmunds (c/o my parents!), February 2019
I think its very informative.

Jill
Lakenheath, but have seen the magazine in Thetford Garden Centre, February 2019
It's wide availability.

Maurice
Fressingfield, February 2019
Good newsy local magazine which allows us to advertise our events.

Tim
Pulham St. Mary, February 2019
I really like the very interesting articles you print on local subjects.

Janet
Diss, February 2019
Competitions, local events and recipes.

Ella
Harleston, February 2019
All local information. Gardening tips and recipes and just local things!

Ruth
Pulham St. Mary, February 2019
The wide range of articles and items of interest.

Carl
Diss, February 2019
Lots of local stories – a very enjoyable read.

Adam
Attleborough, February 2019
Very informative, good stories and nice to get a lot of local tradesmen advertising which is very helpful, and I think Lily and the team do a great job.

Alan
Tacolneston, February 2019
I like the variety of local interest.

Jenny
Harleston, February 2019
It has a good mixed content and the bright covers always grab my attention. Love the competitions!

Debbie
Hethersett, February 2019
I really enjoy the variety of topics and information in each edition. Often use it to look for tradesmen as well.

Debra
Deopham, February 2019
The personal touch, the gardeners tips, the recipes and reviews e.g. Ladies who Lunch, the events and what's on – these are very important and useful.

Emma
Tibenham, February 2019
[It] covers a wide range of topics, well done thank you.

Katherine
Hemsby, February 2019
Often we are away from home visiting family and friends elsewhere.
But [we] always read Village People cover to cover upon return, often with great disappointment of events missed, but so very grateful to live in a vibrant community with so much to offer!!!

Elizabeth
East Harling, February 2019
Nicely put together magazine, informative.

Josie
Thorndon, February 2019
I like the fact that it has lots of dates for events that are going to be happening. Already put Rock Norwich in my diary and a hobby craft day at the NEC.
So much to read in a little book. This copy is my father in laws.

Vicky
Wymondham, February 2019
It always has great information on local businesses. I also like the size, not too big.

Paul
Cringleford, February 2019
I like when you photograph the clothes and accessories and put together on a page. I also like the fact that the magazine is all about supporting local companies.

Sian
Cringleford, February 2019
Competitions, gardening and cooking ideas, Ladies Who Lunch giving ideas for our next outing and other articles that teach me more about the area and what it has to offer.

Faye
Stuston, February 2019
Lots of helpful local information.

Jackie
Brockdish, February 2019
[I love} the variety of information across Norfolk.

Amanda
Wortwell, February 2019
General information about local events, activities and services.

Clive
Carleton Rode, February 2019
Lots of interesting local features and info on local events.

Shirley
Hinderclay, February 2019
Interesting articles about events and groups available locally.

Alison
Spooner Row, February 2019
I love it; full of interesting pieces to read, full of helpful information so, thank you.

Christine
Scole, February 2019
I love it; full of interesting pieces to read, full of helpful information so, thank you.

Christine
Scole, February 2019
I get to find out what's happening in my village, and I enjoy trying the recipes out; there's just a bit of everything to sit and look through whilst enjoying a coffee break.

Donna
Hethersett, February 2019
It has a good variety of subjects. Nice and colourful.

Janice
Eaton, February 2019
Lots of interesting features about what is happening close to me.

Sue
Great Ellingham, February 2019
I like it because it has a good mixture of articles, there is something interesting for everyone.

Tracey
Little Melton, February 2019
The variety, the competitions, interesting local items.

Caroline
Ditchingham, February 2019
Full of interesting stuff about what is going on in my area.

Lesleyjane
Kirby Cane, February 2019
It has good information regarding the local area and I like the articles written by local people about something that interests them, be it work related or a past time.

Clare
Attleborough, February 2019
Love to read the history of local villages and towns with the photos. I always read the gardening tips, have learnt a lot. Great to keep up with what is going on in the area.

Look forward to reading it .

Jackie
Hethersett, February 2019
Interesting, not too much advertising, keeps trying to find something new and doesn't rely on the local papers for all their pieces.

Louise
Forncett St. Peter, February 2019
All the info on what's going on around the area, the Tradesmen and the Theatre info: I got tickets for Mike and the Mechanics because I saw it in the magazine.

Susan
Pulham Market, February 2019
The variety of information, recipes, easy to find the services locally.
Good mix of advertisments and topical information.
Useful size to keep for reference.

Dianne
Bungay, February 2019
Lots to read. Local advertising.

Elaine
Ashwellthorpe, February 2019
[I love the] history photos, Ladies who lunch, What's on & Local business.

Sue
Fressingfield, February 2019
[It's a] very informative magazine that is of interest to all ages and diversity.

Eileen
Mulbarton, February 2019
Local stories and easy to read, gets better each month.
I also like the local directory on the back pages and have used it to find a dog sitter before.

Sara
Hethersett, February 2019
Very good, lots of information and love the competions.

Patricia
Wacton, February 2019
[I love the] local stories and adverts for individual small local businesses.

Kirsty
Trowse, February 2019
I love the Village people magazine… the upbeat feel of the magazine, stories and love the colours that you use on the front cover, always inviting.
Great way to see all the local companies advertising too.

Catherine
Rickinghall, February 2019
There is plenty to read in magazine.

Kathleen
Bawburgh, February 2019
Variety of topics included, helpful advice and reviews regarding local services and events.

J Wilkinson
Eaton, February 2019
The way it keeps people in touch with everything local, entertainment, food, helpful people/numbers etc.

Gary
Long Stratton, February 2019
I like the variety of subjects and the fact I get my own area edition and it is delivered through my door, all for free.

Jenny
Harleston, February 2019
Lots of lovely articles.

Vanessa
Attleborough, February 2019
Keeps me informed of all what's happening in my area! A good read!
Plus has useful numbers in adverts.

Lorraine
Stoke Holy Cross, February 2019
Very interesting & informative – keep up the good work

John
Southwold, January 2019
It tells me more about the surrounding villages and what is going on.
It also includes interesting points about lifestyle (such as tips & ideas etc.).

Stephen
Long Stratton, December 2018
I love the variety of articles and always useful information.

Brenda
Attleborough, December 2018
It keeps us informed about local businesses.

David
Ilketshall St. Margaret, December 2018
It's very informative about local things etc.

Sharon
Wacton, Long Stratton, December 2018
It's very informative & interesting.

John
Wrentham, December 2018
I like the variety of stories. Also the adverts come in very handy too.
Nice sized magazine packed with decorative information.

Deborah
Carleton Rode, December 2018
I like everything. It feels like a glossy mag but has all the things you need for the local person.

Sue
Rickinghall, December 2018
Bright and interesting to read. Helpful information on local products.

Margaret
Bungay, December 2018
The articles about places to eat and village life/heritage.

Kath
Tivetshall St. Margaret, December 2018
Local, good features and very informative.

Linda
Gislingham, December 2018
Gives information on many local events for people like me. It is a very useful local guide.

Stella
Hopton, December 2018
Lots of interesting articles.

R Barret
Withersdale, December 2018
Local advertising for small business!

Vanessa
Marlingford, December 2018
Great variety and so much local information! It's inspirational and fun!

Jan
Eaton, December 2018
The local stories, local life, nature and life and recipes, offers & the fun Competitions!

Adam
Attleborough, December 2018
I love the local articles, news and advertisers.

Leanne
Shotley Gate, December 2018
Smashing A5 magazine – top quality and lots of really good information which means it has a high retention value. Also look at the coverage!!! Brilliant and relatively untapped.

Jan
Suffolk, December 2018
Both my wife and I enjoy reading Village People as it is very informative as to what is going on in our region and has lots of different articles to suit all tastes together with some interesting offers, competitions and adverts.

Sid
Hingham, November 2018
I congratulate you on an informative and useful local magazine, thank you once again.

Carolyn
Eye, July 2018
Cedrick Jackson called from Tasburgh to say his new magazine had just been delivered. It's wonderful and both he and his wife really enjoy reading it. Full of interesting content and useful contact details for local businesses, he described it as 'spot on'.

Cedrick
Tasburgh, February 2017
I enjoy crosswords and was pleased to see it but didn't complete, which is why I was eager for the answers. Please continue with the crosswords if you can, regular would be good! And we thoroughly love getting Village People. Informative about our own area and interesting articles. Congratulations on the recognition of your success.

Sue
Tivetshall, September 2016
Just wanted to let you know how much your Village People publication is enjoyed in our household.

Elizabeth
South Norfolk, September 2016
I much appreciate receiving "Village People". My wife and I live in Mulbarton and love it. We have been here for two years now having moved from Stratford on Avon and we certainly made the right decision.

George
Mulbarton, September 2016
Village People is a very informative magazine with local information available for all sorts of local businesses. It includes deals for local pubs and restaurants and we have often been surprised at the amount of lovely pubs which are very local to us, but which we wouldn't have known about without such magazine resources. Friendly publishers also who go out of their way to help.

Rebecca
South Norfolk, September 2016
Yes, we really like your little magazine 'The Village People' and generally read it pretty thoroughly. It even helped to put us in touch with an old friend we hadn't been in contact with for over twenty years! We saw his ad in there.

Mary
South Norfolk
Just wanted to say how I enjoyed reading this edition of the village people which I picked up at a garden centre. The work that goes into it is very worthwhile and makes it an extremely informative read and must also provide a significant boost to the local economy with the local businesses featured. I am sure the FSB and trade orgs must be impressed too. Fascinating to read about some local and sometimes unusual businesses which otherwise would struggle to reach so many readers. Very encouraging also that a printed publication which is targeted with interesting editorial features can both exist and also thrive in this climate where more and more is shifting to online media. No mean feat and testament to your hard work and quality magazine. Keep up the great work and I look forward to reading the next one when it is published.

Adam
Attleborough
Love the magazine that you put together.

Sarah
South Norfolk
Love the magazine, really look forward to it especially the Village Wanderings.

Chris
South Norfolk
I really enjoy your magazine, it is passed on to me via my sister who lives in Kenninghall – it is very good to know what is going on in the area.


Alex
Outside of our delivery area, September 2016
I enjoyed reading your magazine that my neighbour gave me, is it possible to arrange for one to be sent to me, please?.

Cathy
Attleborough, September 2016
You can pick up a free copy from our stand in Sainsbury's, Attleborough!
I don't know anyone who doesn't read every issue thoroughly.

Leanne
Winfathing, Diss, September 2016
Great magazine! We use it all the time…

Jennifer
Bressingham, Diss, August 2016
I must say, we love your magazine and I look forward to it dropping through the letterbox each month. In particular, we love the walks, gardening and recipe pages and will now keep an eye on your website from now on. Your team do a great job.

Jenny
Cringleford, August 2016
Your latest edition arrived yesterday. As usual, it is full of excellent stuff! Keep up the good work.

Jill
Burgate, August 2016
We value Village People mag and think it helps nurture local communities; good stuff.

Peter
Hethel
There are many things that I like about Village People but the Village Wanderings walk is the page I first turn to.

John
South Norfolk, July 2016
I have much appreciated it when you have included our notice in past years as it makes such a difference – so I am keeping my fingers crossed that you can include our notice in your magazine again this time.
Wendy
South Norfolk, July 2016
I'm just dropping you a line to say the 'Village Wanderings' page is a lovely feature of your magazine. My wife and I enjoy the walks very much.

Alan
Harleston, June 2016
I was just about to send you an email to thank you for the very nice Notice Board entry for our Model Railway Show – so, many thanks for this, much appreciated. Then I just took a 'phone call from a Diss number, and the caller's first words apart from 'Hello' were "I've just seen the advert for your Model Railway Show in Village People"…..What can I say?!

Bob
Rickinghall, May 2016
Flattery notwithstanding, the Early Spring issue seems even better than your usual – an exceptional range of topics covered, and a really nice balance. No wonder it's so popular!

Mr. Clark
South Norfolk, May 2016
Thanks for putting the Pulham Orchestra charity event in Village People mag – it is excellent!

Your help is much appreciated and we have had a good take-up already on only day 2 of your 5-day delivery.

I will use this facility again.

Linda Roy, Publicity Officer and 1st Flute
The Pulham Orchestra
Compulsive reading…

Mr. Hill
Brockdish
Being a new resident to south Norfolk I really enjoy having Village Magazine delivered to my door and how it directs me to various local services.

It's bright, cheerful and full of interesting articles too. Essential reading and it's all delivered free of charge!

Martin
Just received the new issue of Village People. You do a wonderful job and your mag is not just beautifully done but stands out significantly from similar publications I have seen.

A village in NR16
Village People looks really good and it is nice to get something free through your door that is useful.

Mrs. Jolley
A very BIG thank you for including details of Tibenham's book sale in Village People.

It has certainly been very effective and the books are piling up!

Mrs. Evans
Tibenham
Many thanks for a great little magazine!

Ms. Perfitt
Great Moulton
I have just sat down in front of the fire and read Village People and it's excellent as usual.

Mrs. H
Bustards Green
Thanks for the copies of Village People, it's a great magazine. We want one where we are!

A village in NR14
It's a magazine that stays in our house much longer than any other.
Village People is often kept for future reference rather than being consigned immediately to the recycle bin.
People we speak to keep the magazine and use it as a directory.
Congratulations on an excellent magazine. It is so informative and interesting. We have already used 2 of the advertisers with very satisfactory results and are about to contact a third.
As the director of a play going into production at a new location, I was very pleased to be told that 'Village People' may be able to print a free article about the production. Wymondham Players have been performing at the Central Hall for decades and moving to a new venue was an anxious time for us.

In Wymondham, we distributed our yellow boards with the new venue indicated, but on the whole, they were restricted to Wymondham. So to have the opportunity to inform the catchment area beyond Wymondham, i.e. the 'Villages' and all 14,000 of these rural households, was a huge bonus for us.

Apart from the actual task of writing the piece for the magazine, the whole exercise could not have been simpler. Ample guidance was given when requested by Lily and the piece and a photograph were simply sent by email.
We have had many positive comments already from people who have seen the article in Village People magazine which we all agreed was very well presented.

Tabi
Director, Wymondham Players
Read statistics from our latest reader survey.
We'd also love to hear what you think.