Vegan Rose & Lemon Cake
---
This delightful cake astonishes everyone who tries it. Despite containing no eggs or dairy its texture is great and the flavour even better.
Take care with the rosewater, which should be a concentrated one (from most supermarkets) – as even one drop too much takes it from exotically perfumed to great aunt's boudoir! 
Ingredients (Serves 12):
Cake:
550g self-raising flour
400g caster sugar
2 teaspoons baking powder
Pinch of salt
Zest and juice of 2 lemons
200ml rapeseed or sunflower oil
300ml cold water
Rosewater flavouring, to taste
Icing:
250g icing sugar
About 50ml lemon juice (1 lemon)
Rosewater flavouring, to taste
Dried rose petals
Lemon zest
---
Method:
Oil a 2lb (900g) loaf tin and line with baking parchment. Preheat the oven to 180ºC. Combine the flour, sugar, baking powder, salt and lemon zest, mixing well.
Beat in the lemon juice, vegetable oil and enough cold water to make a smooth, loose batter. Add the rosewater a drop at a time, tasting to check you've got just enough. Pour the batter into the loaf tin.
Bake in the oven for about 40 minutes, until it's springy to the touch and a skewer comes out clean. Rest for 15 minutes in the tin, then turn out onto a rack to cool.
To make the icing sift the sugar into a bowl, then stir in about 50ml of lemon juice to make a thick icing that you can spread smoothly on the cake without it running off. Add a drop or two of rose flavouring, again tasting as you go.
Spread on the cake, then immediately scatter dried rose petals and lemon zest over it. Press the petals down gently so they stick to the icing. Allow to set, then cut into thick slices. The cake will keep for several days in a tin.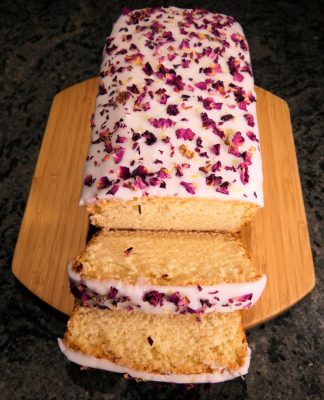 Tip: Omit the rosewater and add a handful of fresh raspberries or blueberries for a completely different cake.
The Pennoyer Centre's staff and volunteer BakeForce make delicious cakes for the café, which won the EDP Norfolk Food & Drink "Best Baking" Award. 
The café, in Pulham St Mary, is open Mon-Sat from 9.30am to 3.30pm.
www.pennoyers.org.uk   01379 676660
---