Kiwi and lemon cheescake
---
Spring is here! Time to ditch those heavy, hot and starchy puds and move onto something cooler and lighter. It's time for something fresh, fruity and yummy
This dessert is quick and easy to make and looks so impressive served up in a wine glass. You could be traditional and put it in a tin/ dish, but I just love the way it looks in a glass. They look professional. It's a great way to end a dinner party. Your guests will either want more, or the recipe, or both!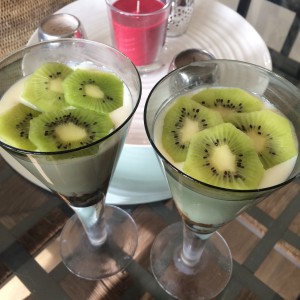 Ingredients:
1 tub Philadelphia cream cheese
1 tin of condensed milk
The juice of 1 large lemon
The zest of half a lemon
1 tsp vanilla extract
Kiwi slices to decorate
12 Ginger nut biscuits, crushed
2 tbsp. butter or margarine, melted
1 x 10g sachet of vegetarian ge l- prepared as per pack instructions (veggie alternative to gelatine)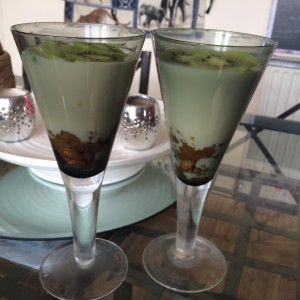 Method:
Mix the crushed ginger nuts with the melted margarine or butter and layer them into the bottom of your wine glasses. Press them in with the spoon to make a firm base. Put aside.
In a mixing bowl, add the cream cheese and condensed milk and whisk until smooth.
Now squeeze in the juice of the lemon and grate in the zest.
Add the vanilla extract.
Add your veggie gel mixture and mix gently.
Pour the mixture evenly into the wine glasses (this should make 4 generous servings, or 6 smaller ones).
Pop it in the fridge to set for a few hours.
Before serving, layer the slices of kiwi on top of the desserts. And enjoy!
Wishing you all a very beautiful spring time.
---
With thanks to Nadia from NadsNorfolkFood.
Twitter: @NadsNorfolk
Facebook: NadsNorfolk
---