Hempnall Mill Café
---
As lunches go, this one was a bit different; no extensive menu, no wine, and no double damask dinner napkins. But it was one of the most enjoyable for different reasons.
Hempnall Mill is an old windmill, with additional extensions built in 1979 by The Hempnall Trust (a registered charity) forming the big main room, associated offices and excellent catering kitchen. Four days a week the building is used as a day-care centre for residents of Hempnall. As the centre had remained unused on Mondays, the decision was made to open it as a café on the first Monday of every month for snacks and light lunches. This is the lunch I am writing about.
The café started up three years ago to provide a local venue for socialising for all ages, regardless of where they live. It continues to be successful, both in terms of providing social interaction and providing inexpensive, excellent food. Light lunches and snacks are available, including homemade cakes, and the café also helps with the financing of the mill, which has become more difficult over the years.
Food is sourced locally wherever possible. Meat is from Hempnall Butchers and fruit and veg is from the nearby Horseshoes Farm Shop. Fresh food donations are gratefully received from the allotment holders and other gardens in the village. Lunch is cooked and served by a team of volunteers who, at the end of the meal take the weight off their feet, eat up whatever is left over, discuss how the day went and plan the next one!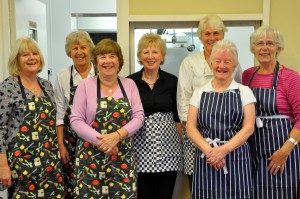 Well the description "light lunch" is a misnomer; I had a superb curry made from butternut squash and chick peas, and the friend I was with had Boeuf Bourguignon which she said was delicious. There was nothing small about the portions. For afters, I had fruit compote with ice cream, and my friend had homemade syrup & lemon tart. As the choice of food is dependent on what they have on the day, it is difficult to tell you what to anticipate, but you can expect a good, old-fashioned, two-course lunch in the company of extremely friendly people.
Thus fortified, we continued on with our journey and on the way back, thought we would look in and see if there was any chance of coffee and some of the delicious-looking cake that we had spotted earlier. They were officially closed for the day, but despite the fact that all the volunteers were seated and having a well-earned rest, they still found time to pack up a couple of pieces of cake for us to take home.
The Mill Centre is also available for casual and regular bookings and has the advantage of offering a full-catering kitchen. Further information can be found at www.hempnalltrust.org.uk and www.independencematters.org.uk
Hempnall Mill Café
Mill Road,
Hempnall,
Norwich,
NR15 2LP
Café: 01508 499766
---