Delicious Recipe for a Tiramisu Cheescake
---
Tiramisu Cheescake
This is a new recipe at the Pennoyer Centre, devised to combine two favourite puds into one delicious no-bake cake.
Be sure to start it the day before as it must have time to set properly.
Ingredients (Serves 10-12):
Base:
300g dark chocolate digestives, crushed
90g butter, melted
3 teaspoons good cocoa powder
1 tsp instant coffee dissolved in 1 tsp boiling water
Sponge Layer:
12 Savoiardi (sponge finger) biscuits
100ml of strong coffee (instant or espresso)
125ml Marsala
Filling:
250g white chocolate, chopped
250g mascarpone
300ml double cream, whipped for piping
1/2 teaspoon vanilla extract
Syrup:
100ml strong coffee (instant or espresso)
60g caster sugar
20ml Marsala
Cocoa powder, chocolate shavings and chocolate coffee beans, to decorate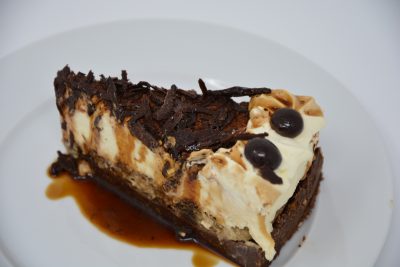 Method:
Combine the crushed digestives, instant coffee mix and cocoa powder with the melted butter. Press this mix into the base of a 23cm springform cake tin taking it slightly up the sides.
Melt the white chocolate slowly in a bowl set above a pot of just-simmering water. Stir occasionally until melted, take off the heat and allow to cool slightly.
While the chocolate melts, prepare the sponge layer. Combine 100ml coffee and 125ml Marsala in a shallow dish, then dip each sponge finger. Lay these on the biscuit layer in the cake tin. Break up the final few to fill in gaps.
For the filling, briefly beat the cream cheese and mascarpone in a large bowl until combined. Add the vanilla extract and 3 tablespoons of whipped double cream. Gently fold in the melted white chocolate. Pour into the cake tin, level the top, cover with cling film and refrigerate for at least six hours.
Make the syrup. Put 100ml coffee with 20ml Marsala and the caster sugar into a pan and stir over a medium heat until the sugar dissolves. Bring to the boil for five minutes or so, until it becomes syrupy. Cool completely.
To finish the cheesecake, carefully run a knife around the edge of the tin, then gently remove the ring. Dust with a thick layer of sieved cocoa and pipe cream around the perimeter. Add chocolate shavings, drizzle with coffee syrup and decorate with coffee beans. Keeps 4 days, refrigerated.
Tip: If you don't have an espresso maker, strong instant coffee works perfectly well.
---
The Pennoyer Centre's volunteer BakeForce make delicious cakes for sale in the café and were delighted to win the EDP Norfolk Food & Drink "Best Baking" Award. The café, in Pulham St Mary, is open Mon-Sat from 9.30am to 3.30pm.
---