COSMO Norwich
---
Skipped breakfast? Check. Elasticated waist? Check. Extremely hungry? Check. Well we certainly went to the right place.
If you're doing a bit of retail therapy in Norwich and, like us, can never really make a decision on what to eat, go to COSMO.
It's relaxed, easy on the pursestrings and it's all you like for one set price.
Already three hours into our shopping trip (and that was just in Jarrold) me and the girls decided to give this brand new restaurant chain a go. We were already close – COSMO is located in the old Habitat building – and some of my friends like spicy, some saucy, some traditional. It's hard to win.
It was dead-on 12 noon, which is when COSMO opens for lunch, and already there was a queue outside the door.
Riding up the escalator to the first floor, we were immediately pleasantly surprised. The restaurant was ultra-trendy, we could see the chefs cooking away and there was more than enough space to cater for everyone that had been waiting.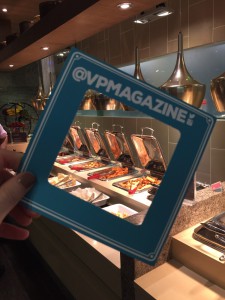 And the food!
There were dishes upon dishes of everything – from Italian, Indian, Chinese, Thai… you name it.
Once seated at our table, the waitress asked whether we'd been to COSMO before and kindly explained how it works. Basically, you go up, grab a plate, then help yourself. And do so as many times as you like until you feel very, very uncomfortably full. Challenge accepted!
We each went for the "bottomless" soft-drink option (saves impulse-buys later) and located the "starter" section.
The plates were the same size whatever the course – not full-size but substantial enough to fill you up after just two helpings, as I soon discovered.
I powered on, eating my way through pizza, pasta, curry, spring rolls, chips, chow mein, fried rice and sushi all before 1pm.
And then it was time for dessert! Slightly disappointed because we'd expected there to be a chocolate fountain, but our waitress explained that the fountain, and number of additional dishes, are introduced only in the evening when there are even more diners.
Deserts were pleasant "finger-food" options, including bite-size cheesecakes and mousses, as well as a selection of ice creams flavours to scoop for yourself.
Those of us not wise enough to remember to wear leggings had to discreetly unbutton before sidling up to the bar to pay the bill. We'd eaten A LOT so were expecting a heavy-blow. But all that food was just £7.99 each.
Hurrah! Plenty of pounds left to spend in Chapelfield!
Bottom Line:
Eat all you like lunch £7.99 (dinner £13.99)
Bottomless soft-drink £2.65
TOTAL £10.64 per person
COSMO Norwich
25 London Street
Norwich
NR2 1JE
01603 677777
www.cosmo-restaurants.co.uk
Opening times
Lunch:
Monday to Friday
Noon – 3pm
Saturday
Noon – 4pm
Dinner:
Monday to Thursday
5pm – 10.30pm
Friday & Saturday
5pm – 11pm
Sunday & Bank Holidays:
Noon – 10pm
---