Baked Strawberry & Raspberry Cheesecake
---
Baked cheesecake needs time to prepare and mature, but it's worth it!
This one is topped with strawberries in a raspberry sauce, a great way to improve early season strawberries, or supermarket buys that turn out to be less than tasty!
Ingredients (Serves 12-14):
Base:
250g digestive biscuits, finely crushed
1 tablespoon caster sugar
150g butter, melted
Cake:
6 large eggs, separated
100g caster sugar
1 heaped tablespoon cornflour
500g cream cheese
250g mascarpone
150ml sour cream
150ml double cream
2 teaspoons vanilla extract
Grated zest of a lemon
Topping:
200-250g fresh strawberries
300g raspberries (frozen are ideal)
50g icing sugar
Lemon juice (optional)
Icing sugar to dust
---
Method:
Mix together the biscuits, sugar and melted butter, then press into the base of a 23cm springform cake tin.
Chill for at least half an hour.
Preheat the oven to 170ºC.
Whisk the egg whites to stiff peaks. In another large bowl, mix together the sugar and cornflour, then add the cream cheese and mascarpone, beating until combined.
Add the two creams and the vanilla extract, beating constantly, then add the lemon zest.
Fold through the egg whites, then pour the mix onto the chilled biscuit base.
Bake in the oven for about 60-90 minutes, until golden brown and just set. Switch off the oven and leave for a further two hours.
Put the cooled cake in the fridge overnight to mature
Next day, prepare the topping: Put the raspberries and icing sugar in a sieve and press through to make a sauce. Add lemon juice to taste.
In a bowl, mix together the strawberries with the raspberry sauce.
Run a knife around the cake to release it from its tin. Dust with icing sugar, then pile the berries on top, reserving surplus sauce to serve on the side.
The un-topped cake will keep in the fridge for three to four days.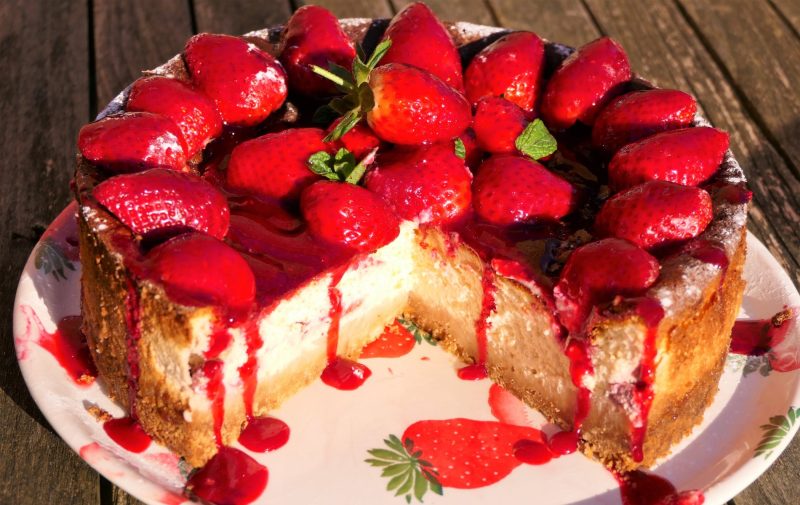 The Pennoyer Centre's staff and volunteer BakeForce make delicious cakes for the café, which won the EDP Norfolk Food & Drink "Best Baking" Award. Please check Pennoyer's website or Facebook for current opening times.
www.pennoyers.org.uk www.facebook.com/pennoyercentre 01379 676660
The Pennoyer Centre, Station Road, Pulham St Mary, Norfolk, IP21 4QT.
---