Asparagus and broad bean penne with feta cheese
---
The time of year has come when all those delicious fruits and vegetables that only show their faces for a couple months of the year are in season.
The time has come to ditch the heavy winter dinners and eat fresher, lighter and more vibrant foods. So in honour of the approaching warmth of summer (so we say, filled with hope), here's a fabulously simple and delicious pasta dish for you and all the family.
Ingredients:
One red onion, diced
One heaped teaspoon of mixed herbs
Two tablespoons of olive oil
Two cloves of garlic, finely chopped
The juice of a whole lemon
About 10 green olives, diced
A large bunch of fresh asparagus, chopped into around 2cm-long pieces
200g feta cheese
One vegetable stock cube, dissolved in about 30ml of boiling water
Two handfuls of baby spinach
190g broad beans
Large splash of white wine
Salt and pepper to taste
350g penne pasta (cooked until El Dente)
Method: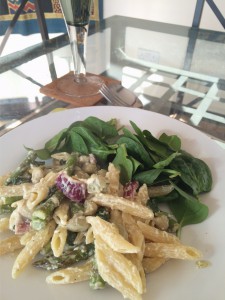 Fry the onion, garlic and herbs in the olive oil and half of the lemon juice.
Season with salt and pepper – be generous with the pepper but careful with the salt as the cheese is quite salty already.
Add the olives and the stock, stir, then the asparagus and broad beans, and stir again.
Next, add the spinach and the rest of the lemon juice, crumble in the feta cheese, and give it a good mix before adding the white wine.
Leave to simmer for around five or six minutes; if the mix looks a little thick, add some boiling water to loosen it up slightly.
Now add the cooked pasta to the sauce and mix well.
Serve with a simple green salad tossed with olive oil and lemon juice (we used baby spinach).
This dish tastes gorgeous fresh out of the pan, but it will serve perfectly as a cold pasta salad the following day – that's the beauty of it! If you prefer dairy free, plain soya yoghurt is an ideal alternative to the cheese.
With thanks to Nadia from NadsNorfolkFood.
Twitter: @NadsNorfolk
Facebook: NadsNorfolk
---