A decent car doesn't have to be German
---
For many years German cars have been envied for their engineering, design and luxury. Of course, there is no denying that the country produces some amazing machines, but there are plenty of other countries making decent motors too.
With the state of the global economy, we thought it would be worth looking at two non-Teutonic cars which have a perfectly good image, but won't cause you to dig too deep into your pockets.

Honda Accord Saloon 2.2 I-DTEC ES GT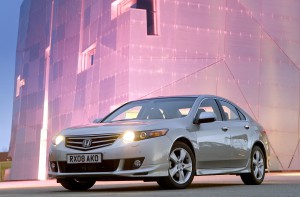 Within the last decade the Honda Accord has flourished. It has turned from a nondescript, albeit dependable car into a striking, solid executive carriage with real road presence. It looks business-like and it's a proven, economical, motorway mile-muncher.
The latest Accord saloon, especially in GT guise is a car you'll be pleased to have as your company car. It is the perfect BMW or Audi alternative and projects a successful but self-effacing image.
Behind the wheel, the Japanese motor has well damped switchgear and a comfortable driving position. The seats are supportive and the half-leather upholstery is sporty, yet elegant. The easy-to-operate central sat-nav unit is a boon for business trips into the unknown, and the thick leather rimmed steering wheel is a pleasure to grasp on those expeditions.
The drive is smooth, with lots of pull from the 2199 cc diesel engine. The car will accelerate from 0-62 mph in an unruffled 9.4 seconds, and it will power onwards and upwards to 131 mph. The four-door saloon takes corners well, soaks ups potholes, and generally feels well planted at all times.
The Accord is not quite as engaging to drive as a rear-wheel drive BMW and it doesn't have the 'string-of-pearl' lights first introduced by Audi, but it's a Honda – a firm with a long-standing reputation for good reliability. And you'll only need to spend upwards of £21,000 to get a new one.

New Hyundai i30 Style 1.6 CRDi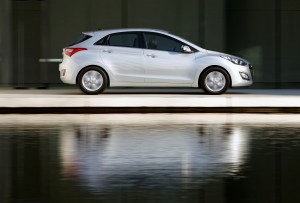 The New Generation Hyundai i30 is similar in size to the Audi A3 or VW Golf and its appearance is quite 'cutting edge'. The LED running lights are very 2012 and the cabin looks as if it's from space-age 60s cartoon – The Jetsons.
It's all good fun and practical too. The motor is fine for ferrying colleagues to business meetings – there's plenty of room for two adults in the front and sufficient space for a couple of passengers in the rear. Lift the hatch and the boot is also big enough to gobble up your essential items.
The i30 is comfortable and holds the road well. The steering is a little vague, but the Hyundai glides across our patchy British country roads acceptably and sits on motorways perfectly happily.
For £19,860 your new Hyundai i30 Style will come loaded with gear. You get duel-zone climate control, an intelligent, fuel saving, stop and go system, parking sensors and hill-start assist control. Some of this kit only comes on the options list of rival marques.
The i30 has also recently been awarded 'Car of the Year 2012' and all Hyundai cars come with a five star triple care package, which includes a five year, unlimited mileage, manufacturer backed warranty.
If that's not enough peace of mind offered by the South Korean motor company, you also get five years of roadside assistance and five years of annual vehicle health checks. Now that's impressive stuff – especially if, at the very least, all you're after is a hassle-free car for business.
---
By Tim Barnes-Clay, Motoring Journalist
Website www.carwriteups.co.uk
Twitter @carwriteups
---