The veggies down at River Cottage
---
Light and Easy is definitely not a diet book; instead it's a wholesome voyage of discovery in the form of 170 recipes which don't compromise on taste. Village People caught up with TV chef Hugh Fearnly-Whittingstall, the man behind the recipes.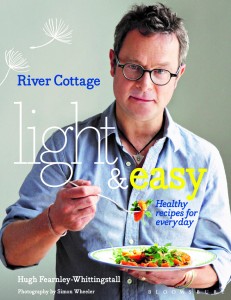 Though Hugh Fearnley-Whittingstall hasn't fully converted to being vegetarian, a summer of meat abstinence three years ago marked a turning point for the way he viewed his diet. "It made me a more creative cook," he says, recalling the experiment that formed the theme for an entire series of his Channel 4 show River Cottage. It also provided inspiration for his latest recipe book, River Cottage Light and Easy.
It's got chapters on meat and fish, but probably 75 per cent of the recipes are vegetarian.

Hugh Fearnley-Whittingstall
There are just two things missing from the cookbook: wheat and dairy. "It occurred to me, 'What if I just took those ingredients out?'" says Hugh, responding to the many requests from his readers for gluten and dairy-free recipes. He was interested in the challenge of cooking without them.
River Cottage Light and Easy is aimed at those of us who eat an unconsidered breakfast of toast almost every morning. Those of us for whom lunch is "grabbing a sandwich", and dinner is a big bowl of pasta – so that's most of us then! "I'm discovering new oils, grains and flours like buckwheat," Hugh enthuses. "And do you know what? The results are delicious."
Hugh is calling for people to show the same love and attention to vegetables as they do to meat. "I'm growing a lot of cucumbers at the moment; people think it's a slightly boring vegetable but if you bash it, chop it and put a few Asian flavourings and a pinch of chilli in, even a cucumber salad on its own becomes really, really special."
With media commitments, books (he has over 20 published works now) and the thriving River Cottage to run, it's amazing Hugh still finds time to grow his own veg from the family home in Devon. "It was getting on top of me a couple of years ago," he admits. "I was so busy extolling the virtues of growing your own, fishing and foraging, that I wasn't getting as much time as I wanted to do it myself." He laid down some ground rules and vowed to spend more time practicing what he preaches to around one million and a half million River Cottage viewers each episode.
"I love living in the country, I feel so rooted here. I've been in the West Country nearly 20 years now," he says. "Devon's great. It's full of artisan food producers, fantastic cheeses, a lot of farm gate sales of meat – this is what River Cottage has been about from the beginning. Not just about growing your own; it's about knowing where your food comes from, it's about getting it from other people who grow it brilliantly who live near you, where food is one of the great glues of a community that knows itself."
Though preparing a meal is not something Hugh takes lightly, his new book makes it easy.
River Cottage: Light & Easy by Hugh Fearnley-Whittingstall is out now.
---