The Norfolk Beefing
---
Food historian, Monica Askay, is the author of a new book about the heritage of fruit growing in the Eastern Counties. Here she explores the history of a once popular local variety of apple.
The Norfolk Beefing or Biffin is a very distinctive apple, flushed with a dark browny-purple red. It's long-keeping, extremely hard, with dry flesh and rather bland when eaten fresh. This very old variety was recorded in a fruit list from Mannington Hall Estate, owned by the Walpole family, in 1698.
The hardness of the Norfolk Beefing makes it ideal for drying and it's excellent for dried apple rings. But it's best known for Biffins, a very popular Christmas delicacy in the 19th century, described by Charles Dickens in A Christmas Carol as part of a display in a fruiterer's window. Biffins were a Norwich speciality, prepared by bakers in their cooling ovens after bread baking.
The apples were cooked whole and gradually flattened and dried, packed into boxes layered with sugar, and sent to London fruiterers, or by post as gifts. They are best dried in brick bread ovens, and the changes in commercial oven technology probably led to their demise. They were still available commercially until the 1950s.
Recipes for Biffins can be found in a number of books. Esther Copley, in The Housekeeper's Guide: Or a plain and practical system of domestic cookery (1838), includes a recipe for "Dried Apples or Pears". She states that Norfolk Biffins are the best apples to use. The method she describes is as follows:
"Place some clean straw on a wire rack, place the fruit on it, and cover with more straw. Place in a cool oven for 4 or 5 hours. Then remove them and squash them gently with your hand, taking care not to break the skins. Put them back in the oven."
She suggests repeating this process 3 or 4 times so that they "become as flat and dry as those which are sold at a high price in the pastry cook's shop. To do them properly requires 2 or 3 days."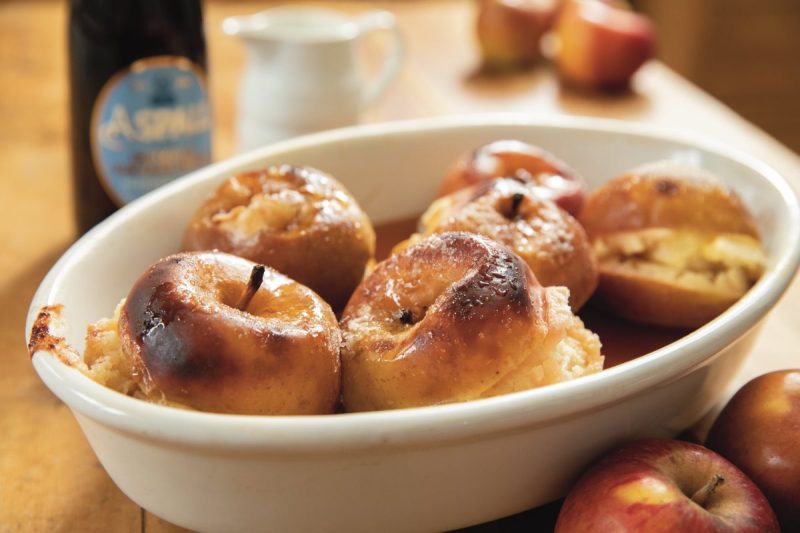 The Norfolk Beefing is also the best apple to use for "Black Caps Par Excellence." Eliza Acton (who was brought up in Ipswich) gives a recipe for this "admirable" dish; the forerunner of our modern baked apple. The apples are halved and the cores removed. The hollows are filled with a mix of chopped candied peel and lemon zest and laid on a bed of soft brown sugar. Raisin wine (I usually use Australian liqueur muscat, although a non-alcoholic sweet apple juice would also work) is poured over them. White granulated sugar is then sprinkled over the tops of the apples.
They initially go into a very hot oven to colour them, and the temperature is then reduced so they cook through. They are ready when the tops are shiny and black (caramelised, but not burnt), and the flesh is tender. Don't be tempted to try this with Bramleys, because they won't hold their shape.
All recipes can be found in Orchard Recipes from Eastern England: landscape, fruit and heritage by Monica Askay and Tom Williamson (£9.95), available in local bookshops and online at www.poppyland.co.uk.
---