Style Counsel
---
In our new column, Style Guru Chrissi Rix answers your questions, to help you dress with confidence
Q: I have put on a few pounds in the last 18 months, can you help me find some clothes that flatter?

Helen, Diss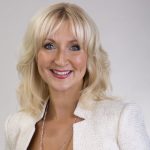 Hi Helen, many of my clients are facing this challenge and it can be hard to find clothes that make you feel good. But I'm a firm believer that your shape, not size, matters most, and wearing the right clothes to balance your body proportions can take inches off you!
The ideal body shape is the hourglass, denoted by shoulders and hips in line with a defined waist. Many of us do not fit into this category, we have wider hips creating a pear shape, or broad shoulders creating a top heavy shape. Some of us might be rounder in the middle, but whatever we are we can create illusions to balance the body to create a slimmer, more stylish you.
Here are a few quick fix tricks!
Pay attention to your neckline. Wide, scoop, slash or boat necks tend to extend the shoulders outwards, while 'V' necks draw the eye inwards. If you are top heavy, choose the latter to narrow shoulders and create more balance with your lower torso. If you feel hip challenged, opt for the wider necklines that add the illusion of extending shoulders to balance with those hips.
Shaped and lightly tailored clothes are an effective way to increase the illusion of a waist. Jackets, tops or sweaters which have been cut to draw in at the waist are your best friend. There can be a tendency to hide in looser clothing, but try to avoid straight or baggy lines which can add pounds.
Always leave your lightly tailored jackets undone so there is a column of another colour showing underneath, as this will lengthen and narrow the torso. Check the hem length of your jacket or top, too, and ensure it finishes above or below the widest point of your hips. Finishing it there can add pounds!
Lastly, extend those legs by choosing high rise, straighter styles. My favourites are Amazing Woman with tummy control, or Freddy Curvy jeans, which lift and hold in everything! Wear a similar colour footwear to your chosen bottoms to add inches to your legs, creating a longer, slimmer you!
If you have a style question for Chrissi Rix, email [email protected].
---
Chrissi Rix has been a Style Consultant for over 30 years. She owns Style Show, a personalised shopping experience in her boutique on Unthank Road, Norwich.
---