OakVilla Restaurant & Gin Distillery – East Harling
---
Owned by South African couple Shaun and Lindi Hancke, OakVilla is based in a beautiful, light and stylish open plan building just off the A11.
Our evening began with a very warm welcome and the 'Enjoy Gin' experience, where Shaun took us through the fascinating history of gin, how the various types are made, plus plenty of tasting – including their two award-winning gins Vryheid and Heart of Oak.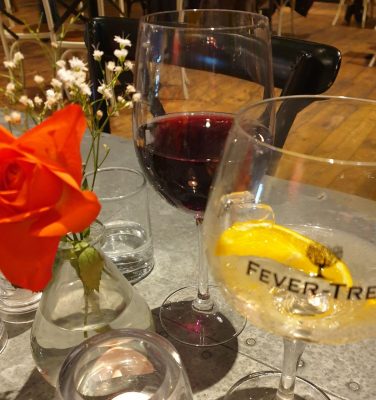 OakVilla offers several other 'experiences', including gin blending and distilling. This was a very enjoyable and unusual start to the evening, and a wonderful preamble to our meal.
The style of the restaurant is very much casual fine dining, and the dishes are both traditional and South African inspired.
I started with OakVilla Gin Cured Salmon, with confit beetroot, pickled cucumber ribbons and a lime, coriander and garlic crème fraiche. Such a pretty dish, with just a hint of gin in the salmon to add fragrance. The earthy beetroot and tangy pickled cucumber were perfect partners, and the crème fraiche brought it all together.
My partner chose Chutney Chicken Thighs, a generous skewer of lightly charred succulent meat, baked with OakVilla apricot chutney and served on a bed of peppery rocket and lambs' leaf. This was a meal in itself, full of flavour, tender and delicious.
Mains were equally impressive. For me, a Mushroom and Butternut Open Lasagne, served with a parmesan crisp, and lambs' lettuce dressed with truffle oil. An inspired twist on the traditional dish, with a tower of layers of pasta, mushroom duxelles and butternut puree. It was substantial, yet light, with lots of earthy flavours, plus it was beautiful to look at, too.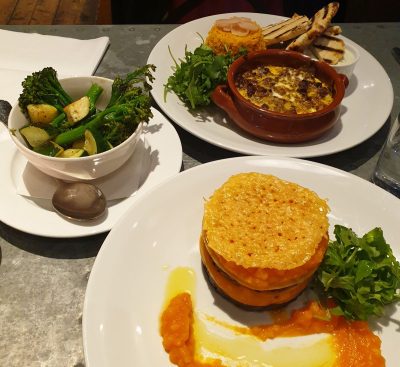 My fellow diner chose something typically South African, as our host informed us, and very unusual to our palate; Twilight Bobotie and Rice, which was a slightly sweet baked mild beef curry set in a savoury egg custard, served with fragrant yellow rice, braai bread and rajitha.
My partner loved this very different curry, with its great mix of flavours that all worked together, and lovely fluffy naan-style bread. We shared a very good side dish of pan-fried long stem broccoli and courgettes. For dessert, I chose Passion Fruit Crème Brûlée, served with coconut ice cream – sweet, creamy and smooth with a great 'snappy' sugar crust.
For my partner, Lindi's Malva Pudding, a melt in the mouth warm sponge, plus vanilla ice cream. Very decadent indeed, moreish and yummy!
What a great evening we had at OakVilla! Shaun and Lindi have created a wonderful, warm and interesting experience, with superb food, friendly and knowledgeable staff and the chance to learn about, taste, create and enjoy gin. This is the perfect venue with a difference; ideal for parties, corporate Christmas events or just a great evening out for two. Cheers!
---
Three-course dinner for two, including drinks – £75.85.
Enjoy Gin experience – £25 p/p.
OakVilla Restaurant & Distillery,
St. George's Distillery,
Harling Road,Roudham NR16 2QW.
Open Mon 12pm-4.30pm,
Tues to Sun 9.30am-4.30pm,
Thurs to Sat 6.30pm-11pm.
---