Mince pie taste test
---
Very few households will be able to resist the lure of a box of supermarket mince pies over the coming weeks.
So the Ladies Who Lunch team stayed at home and tested ten different mince pies. Just doing their bit for Village People's local readers!

Our brief was simple; sample a piece of mince pie and mark it out of five for taste, appearance, amount of filling and general "integrity" – which encompasses all other aspects, including whether they came out of the box whole, whether they had leaked any filling, or whether they had excessive amounts of pips in.
PREPARATION
The initial details were noted on a chart: shop, price, weight, calories (but you don't want to know about that! Except that the Co-op was highest at 263 per pie!), number of ingredients, and whether it was suitable for vegetarians or not (most were).
It was a blind tasting so, with the rest of the team out of the room, I stuck an identifier on the underside of the plates, and swapped them around until even I couldn't remember which was which.
PACKAGING
Three sets came in transparent plastic packs from in-store bakeries; Tesco's had information on the packaging, Morrisons' data was available online, but I couldn't find anything for Sainsbury's Instore Bakery ones.
The other seven came in cardboard packaging – two of which were rather posher than the others, but you don't eat the box. The Co-op had something in braille on the carton which might be useful for the blind (one phonecall later and I can report that it says "six deep-filled mince pies") and each pie came in an aluminium tart case.
GENERAL APPEARANCE
There were marked differences in appearance of the pies; some had intricate snowflake or holly leaf motifs on top, others had a scant scattering of sugar. One had a veritable blizzard of icing sugar on top. One or two were very deep, and one was noticeably flat.
INGREDIENTS
At first I was shocked to see such long lists of ingredients, but soon realised that the mincemeat filling alone accounted for most of them: lemon peel, orange peel, lime peel, sugar, dextrose, fructose, glucose, (other sugars) cinnamon, nutmeg, cloves, salt, lemon zest, treacle, brown sugar, sultanas, currants, apple, almonds, apricot puree, walnuts, cherries… and it goes on. Therefore, only extra-unusual ingredients were recorded (brandy or cognac) and the amount of chemistry-set ingredients – Morrisons' only had the one: Emulsifier (mono and diglycerides of fatty acids); the rest had anything up to 10 (Lidl); the remainder about four to seven. Most of the flour used for the pastry contained vitamins and iron, as is usual nowadays.
SALT
For those of you who are trying to reduce your salt intake, or don't notice the difference, the Co-op, Sainsbury's Bakery and Tesco Value all seemed to have the least – if not none at all – in the pastry. To my personal taste, nothing spoils good bakery products as effectively as lack of salt; Elizabeth David would declare them "insipid" and I agree, but you may not.
EXTRACTS FROM NOTES
One taster made the observation that all the mince pies would be improved by being heated. Some suggested that they could have been cooked properly in the first place: "claggy", "sludgy" and "under-cooked" were noted for Mr Kipling, who didn't score too highly at all. Sainsbury's Taste the Difference (the most expensive) prompted "something nasty, cloves?", "strange taste, almost soapy", and another "strange taste" – so we obviously did Taste the Difference there.
But the eventual winner gained much praise: "slightly alcoholic, nice!", "plain but pleasantly fruity", "moist filling, crisp pastry", "deep fill, fruity filling", "could be prettier, but juicy, sweet".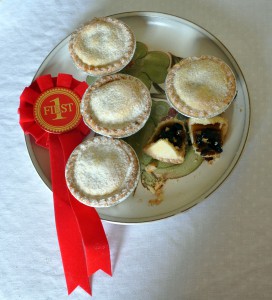 THE RESULTS
The top score possible would have been 120 points: three pies were so close together at the top to render the differences insignificant (93, 92, 91). The next two were rated at 88 and 82, and the following four all scored mid 70s.
Poor old Tesco Value came in bottom with just 49 points. But scoff not: when the team members were asked which pies they'd buy if 30 boy scouts were coming to tea, everyone chose Tesco Value. Cheapest and no artificial colours, flavouring or hydrogenous fats. And at only 162 calories (do boy scouts worry about that?) they were still winners.
When the tasters where asked which they'd buy when entertaining a dozen dear friends with and sherry and mince pies, the choice was unanimously Lidl – one of the top three.
And in answer to the last situation of all: "Yourself alone on the sofa watching an old film with a mince pie – but which will it be?", the answer was again unanimous. Morrisons'; the least decorated pie, losing points for appearance, with a taste that more than compensates.
Sadly for everyone involved, Waitrose mince pies were unavailable at the time of testing.
---