Melanzane parmigiana
---
So the sunshine has come and gone, and come and gone again – as has the rain.
There are times during the Great British summer when you need to do something to bring back that warm summer glow. And I've found it with this Mediterranean delight!
Perfect for al fresco entertaining; it is a wonderfully light but satisfying sharing dish.
Here's my take on Melanzane parmigiana.
Ingredients (Serves 3-4):
2 medium aubergines, thinly sliced and sprinkled with salt (to draw out the moisture)
1 large red onion, finely chopped
1 vegetable stock cube
1 tin chopped tomatoes
150 ml red wine
1 bunch fresh basil, roughly chopped
1 tsp dried oregano
2-3 garlic cloves, finely chopped
½ tsp dried chilli flakes (optional)
2 tbsp balsamic vinegar
2 tbsp soy sauce
1 tsp sugar
150 g fresh buffalo mozzarella, thinly sliced
150 g mature cheddar, grated
Salt and cracked black pepper, to taste
Olive oil (for frying)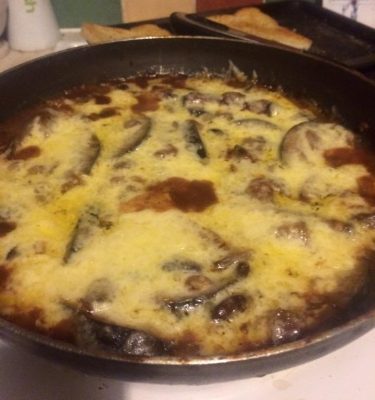 Method (Prep 15 mins, cooking time up to 1 hour):
In a griddle pan, fry the aubergine slices on both sides to seal them, until they are all golden brown. Put them to one side.
Now gently soften the onions, garlic, chilli, half the basil, oregano, balsamic, soy and crumble in the vegetable stock cube.
Pour in the red wine and bring to the boil, then stir in the chopped tomatoes and add the sugar.
In a flat oven dish, layer in the aubergines until the dish is full. Pour over the tomato mixture until it covers the aubergines evenly, spreading it around if necessary.
Now sprinkle over a layer of grated cheddar and follow with the slices of mozzarella.
Bake at 180°C for 45 minutes to an hour, until it's bubbling and the cheese is browning. If you like your cheese a bit crispy, put the dish under the grill for the last two to five minutes. (But keep an eye on it so it doesn't burn!)
Sprinkle over the remaining basil and serve with a fresh green salad and a side of sliced garlic herb toast.
Happy summertime everyone!
---
With thanks to Nadia from NadsNorfolkFood.
Twitter: @NadsNorfolk
Facebook: NadsNorfolk
---