John Torode's Aussie-Style Grain Bowl
---
Australian-British celebrity chef, John Torode, shares a typical Southern Hemisphere recipe with Village People.
Ingredients (Serves at least 2):
4 different cooked (cold) grains – about half a cup (3 tablespoons) of each
2 spring onions, finely sliced
2 handfuls of fresh flat-leaf parsley, chopped
For the dressing:
2 teaspoons tahini
2 teaspoons olive oil
2 teaspoons apple cider vinegar
4 teaspoons fresh lime juice
1 long fresh red chilli, finely diced
Small thumb-sized piece of fresh root ginger, peeled and very finely diced
For the topping:
1 cooked chicken breast, sliced
1 avocado, sliced, with lemon juice squeezed over
2 soft-boiled eggs, peeled and each cut in half (optional)
A handful of beansprouts
Salt
---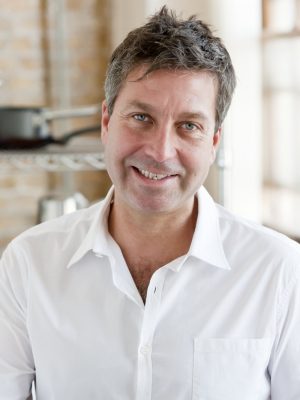 My Aussie grain bowl is a really good alternative to cereal for breakfast, and as a full-on protein brunch it's just as good, with a few carbs added for good measure.

For grains, us Aussies will always mix them up and play around with different combinations. Sometimes I have the meal cold and other times hot, with or without sprouted beans. My favourite is the chicken and avocado combo. Enjoy!
Method:
In a serving bowl, mix the cooked grains with the spring onions and chopped parsley.
Make the dressing by mixing together the tahini, olive oil, apple cider vinegar, lime juice, chilli and ginger in a small bowl. Season to taste with a little salt.
Drizzle a little dressing over the mixed grains and toss gently to mix.
Top with the chicken, avocado and eggs (if using), then drizzle over some more dressing. Finish with he beansprouts and tuck in!
TOP TIPS: Gather the grains at the start of the week, then put them in the fridge and just bring out the bits you need each day.
Grains that are good for this dish include quinoa, black quinoa, red rice, brown and wild rice, green lentils, pearl barley, bulgur, chickpeas, farro, round barley, pinhead oatmeal, buckwheat, spelt, and whole rye. Cook them according to the packet instructions, then cool quickly and store in a tightly covered container in the fridge.
---