Apricot & Almond Cake
---
As the weather gets warmer, many of us are trying to cut back a little. At the Pennoyer Café, we're always inventing new recipes, so we thought we'd try to reduce both sugar and fat in a cake and see what happens.
The result is this delicious, moist cake, which has lower sugar, no dairy, no gluten and no fat. A perfect treat with a strong black coffee.
Ingredients (Serves 12):
275g ready-to-eat apricots
6 green cardamoms
1 cinnamon stick – 5-6cm long
120g caster sugar
Juice & zest of an orange
6 eggs, separated
55g soft brown sugar
150ml water
130g ground almonds
¼ tsp almond extract
Almond flakes (optional)
Icing sugar to dust (optional)
---
Method:
Preheat the oven to 160ºC. Oil and base-line a 23cm springform tin.
Put 225g of the apricots into a saucepan with the cinnamon, cardamoms and the juice and zest of the orange.
Simmer for about 25 minutes until the apricots are soft and the liquid has been absorbed.
Allow to cool, then remove the spices and whizz to a puree. Chop the remaining 50g of apricots into little pieces.
Whisk the egg whites into stiff peaks and set aside.
Add the sugar to the egg yolks and whisk until they are soft and creamy. Add the apricot puree, chopped fruit, ground almonds and the almond extract, mixing until thoroughly combined.
Using a large metal spoon, add a spoonful of egg white to the apricot/almond mix and stir it through to loosen the mix. Add the remaining egg white, folding in gently to retain as much air as possible.
Spoon the mixture into the tin, level off and sprinkle with the almond flakes, if using.
Bake in the middle of the over for about 45-55 minutes until risen and golden, and a skewer comes out clean.
Run a knife around the edge and allow to cool in the tin.
Dust with icing sugar, if using, and enjoy. Keeps in an airtight tin for up to 3 days.
Tip: Serve as a pudding with Greek yoghurt drizzled with honey and dusted with cinnamon!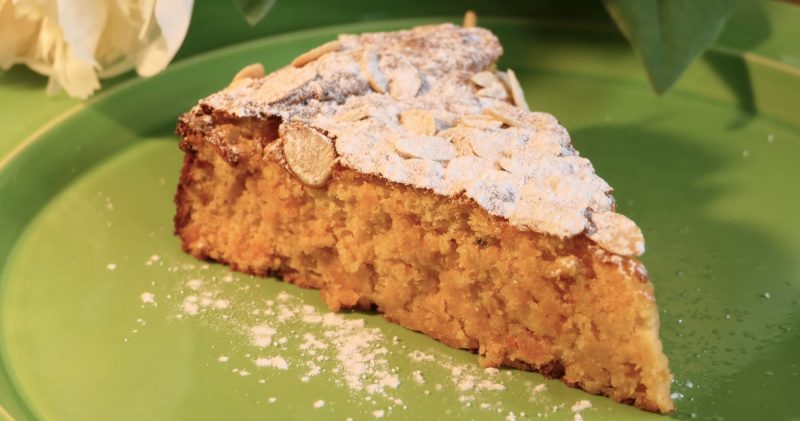 The Pennoyer Centre's staff and volunteer BakeForce make delicious cakes for the café, which won the EDP Norfolk Food & Drink "Best Baking" Award.
www.pennoyers.org.uk www.facebook.com/pennoyercentre 01379 676660
The Pennoyer Centre, Station Road, Pulham St Mary, Norfolk, IP21 4QT.
---