Apple Spice Cake
---
This gluten-free cake is scented with both cinnamon and cardamom – which enhance the appley flavour -and finished with a cinnamo-apple glaze.
A real treat with a cup of tea.
Ingredients (Serves 16):
Cake:
250g gluten-free self-raising flour
1 teaspoon gluten-free baking powder
¾ teaspoon xanthan gum
1 teaspoon ground cinnamon
½ teaspoon ground cardamom
225g softened butter
225g caster sugar
4 eggs
25ml apple juice
25g ground almonds
2 dessert apples, peeled and chopped into ½cm cubes (roughly 175-200g)
2 dessert apples, cored and thinly sliced
Glaze:
75g caster sugar
Juice of 1 lemon
100ml apple juice
Good pinch cinnamon
---
Method:
Preheat the oven to 180ºC/160ºC fan. Line a 21cm square tin with baking parchment. Sift together the flour, baking powder and xanthan gum, then add the ground cinnamon and cardamom.
In a separate large bowl, cream the butter and sugar together until really light and fluffy. Gradually add the eggs, along with a little of the flour mix. Add the apple juice, then fold in the remaining flour and the ground almonds.
Fold in the cubed apple and spoon the mixture into the prepared tin. Level off, then neatly arrange the apple slices on top, pushing them down slightly into the mixture. Bake on the middle shelf for about 60 minutes until risen and firm to the touch. A skewer should come out clean. Cover the cake with foil if it's browning too much.
To make the glaze, put the apple juice, lemon juice and sugar into a pan and heat gently until the sugar dissolves. Simmer until reduced by about half, then stir in the cinnamon. Immediately the cake comes out of the oven, prick over the cake area with a skewer. Spread the glaze over the apple slices and spoon over the cake, then allow to cool in the tin.
Cut into 16 squares and eat within 3 days.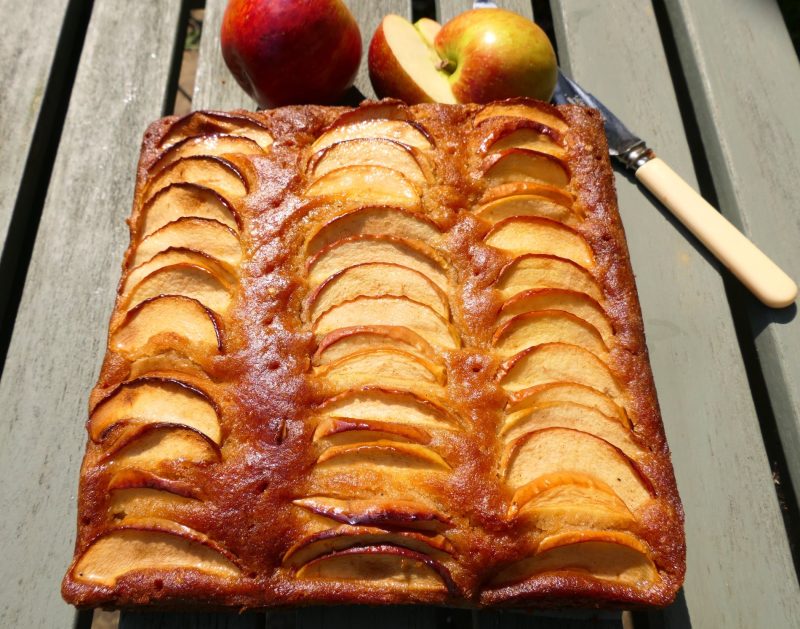 Tip: Dessert apples are best, as they keep their shape when cooked; we used pretty red-skinned Braeburn.
The Pennoyer Centre's staff and volunteer BakeForce make delicious cakes for the café, which won the EDP Norfolk Food & Drink "Best Baking" Award.
The café, in Pulham St Mary, will be re-opening this summer as soon as regulations allow…
www.pennoyers.org.uk www.facebook.com/pennoyercentre 01379 676660
The Pennoyer Centre, Station Road, Pulham St Mary, Norfolk, IP21 4QT.
---