Aperol Cake
---
The inspiration for this gluten-free, dairy-free and low carb cake came from an Aperol spritz cocktail, garnished with a slice of grapefruit.
We've used whole fruits, with some peel, to achieve that slightly bitter aftertaste redolent of the cocktail. If you prefer it sweeter, use the fruit without its peel, and add an extra 25g of ground almonds.
Ingredients (Serves 10):
Cake: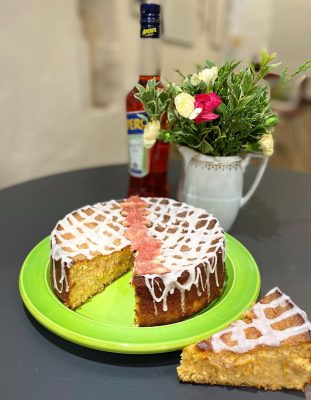 2 ruby or pink grapefruit, about 370g each, thoroughly washed
6 large eggs
250g caster sugar
1 teaspoon baking powder
250g ground almonds
2 teaspoons Aperol
1 tablespoon grapefruit juice (see recipe)
Decoration:
120g icing sugar
1 to 2 teaspoons Aperol
Thinly sliced grapefruit
---
Method:
Grate the zest from one of the grapefruit and set aside. Pierce the other grapefruit, place in a microwaveable bowl, cover, and 'zap' on high for 5 minutes, or until soft. Allow to cool. Slice half the uncooked grapefruit thinly for decoration.
Preheat the oven to 170ºC. Grease and base-line a 20cm deep springform cake tin. In a large bowl, whisk the eggs and sugar until rich and creamy – about three minutes. Fold in the baking powder, the grapefruit zest and the ground almonds. Add the Aperol, and squeeze about a tablespoon of juice from the remaining half grapefruit.
Halve the cooked grapefruit and scoop the fruit from one half, discarding this half's skin – otherwise, the cake will be too bitter. Put this fruit with the other cooked half, remove any pips, and blitz until smooth. Fold this purée through the cake mix until combined.
Pour the batter into the tin and bake for about 50 – 60 minutes, until risen and a skewer comes out clean. You may need to cover the tin loosely with foil after 30 minutes to prevent it burning. Leave to cool in the tin.
Sift the icing sugar in a bowl and mix to a pouring consistency using the Aperol. Drizzle over the cold cake and decorate with the fruit slices. The cake will keep for up to four days in a refrigerator.
The Pennoyer Centre's volunteer BakeForce make delicious cakes for sale in the café, open Monday to Saturday from 10am to 3pm.
www.pennoyers.org.uk www.facebook.com/pennoyercentre 01379 676660
The Pennoyer Centre, Station Road, Pulham St Mary, Norfolk, IP21 4QT.
---