Enter our competitions
Win £100 worth of foreign currency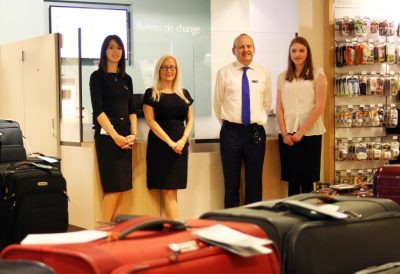 Are you planning your summer holiday?
Then enter our competition for your chance to win a £100 worth of foreign currency, courtesy of John Lewis Finance.
For a great rate on your foreign currency, visit the bureau de change at John Lewis Norwich, located in the luggage department on the lower ground floor
You'll find 30 currencies in stock from euros and dollars to Iceland krona and Thai baht, with 30 additional currencies available to order online at Johnlewisfinance.com/currency.
John Lewis review their exchange rates every day against other national high street competitors and offer 0% commission when buying or selling currency.
If you don't have time to visit the bureau you can also order online for free next working day collection at over 330 John Lewis and Waitrose shops nationwide. Alternatively you can arrange delivery directly to your door.
To enter the competition, simply visit www.village-people.info and answer the following question correctly:
Where is the bureau de change at John Lewis Norwich located?


A: The luggage department on the lower ground floor
B: The toy department on the first floor
C: The place to eat on the second floor
Your answer:

Terms and conditions; John Lewis Finance and John Lewis Bureau de Change is a trading name of John Lewis plc. Registered office: 171 Victoria Street, London SW1E 5NN. Registered in England (Registered Company Number 233462). John Lewis plc introduce the panel of carefully chosen providers in Bureau de Change products and services, whom each hold the appropriate licenses with the Financial conduct authority and HMRC.
John Lewis foreign currency online and/or traveller's cheques is provided by First Rate Exchange Services Limited registration number 4287490 (Money Service Business licence number 12133160), whose registered office is at Great West House, Great West Road, Brentford, West London, TW8 9DF England.
This competition runs until September 30th 2017. It is open to those aged 18 and over and usual Village People rules apply. The editor's decision is final.