Enter our competitions
Liven up your furniture at a Hilary & Alice workshop
This issue, we've teamed up with Hilary & Alice to offer two pairs of £60 vouchers which can be used against a range of creative furniture workshops and classes. Hilary & Alice is a unique homeware shop based in Diss, which offers everything from cushions and lamps to hand-painted furniture. As well as the shop, they run workshops and classes from their beautiful studio at Darrow Farm in Shelfanger.
The lucky winners can choose from a wide range of classes and workshops – here are some of our favourites:
Painting Master Class
A jam-packed session which will leave you with the skills and knowledge to start transforming your own furniture beyond recognition.
In the class your will learn about applying chalk paint, waxing, one and two-tone distressing, decoupage, stencilling, aging effects and much more!
This class does not involve participation, but is a perfect opportunity to discuss your specific projects with our experienced painters.
It lasts 3.5 hours and costs £60, which includes a free stencil.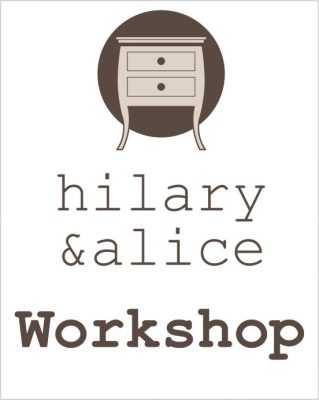 My Furniture Face Lift
Bring your own piece of furniture and leave with a masterpiece. This workshop is all about old and tired pieces of furniture you already have in your own home. Bring a piece to this workshop and leave with a thing of beauty!
In this workshop, you will learn how to:
Create and use different paint effects on your piece
Wax and distress to produce an aged finish or varnish and lacquer to create a clean modern look
Perhaps you could try updating a bedside table, a chair, a plant stand or a storage box – it's up to you! We recommend that the piece should be no larger than 70x70x70cm in order to finish it in time.
The workshop is 5 hours and costs £85.
Chair-Woman of the Workshop
In this workshop you will get stuck in to painting and upholstering a chair, which you can take home at the end of the day. All equipment is provided by Hilary & Alice, including the chair, foam and wadding!
The only thing you will need to bring with you is 1 metre of fabric of your choice (at least 80cm wide) to upholster the seat pad.
The workshop is 6 hours and costs £115.
Find out more about Hilary & Alice at www.hilaryandalice.co.uk or visit the shop at Unit 2 Carmel Works, Diss, IP22 4AS.
To enter the competition, simply submit your details below:
Closing date for entries is November 30th 2017. Usual Village People rules apply. The editor's decision is final.